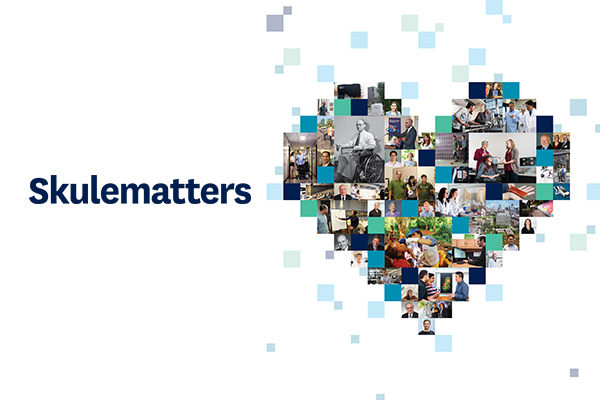 Skulematters 2016 available now
Explore the future of health-care engineering and the remarkable contributions from alumni, faculty and students in the latest issue of Skulematters.

READ THE ISSUE
Hart Professorships awarded to seven early-career faculty members
A landmark $20-million bequest from Erwin Edward Hart (CivE 4T0) created the Percy Edward Hart and Erwin Edward Hart Professorships, awarded to seven U of T Engineering researchers.
Alumni set world record for fastest human-powered vehicle — again
The Aerovelo team, co–founded by Todd Reichert (EngSci 0T5, UTIAS PhD 1T1) and Cameron Robertson (EngSci 0T8, UTIAS MASc 0T9), set a new world record for the fastest human-powered vehicle on earth.
Engineering acumen on a global scale
Sara Badiei (ElecE 0T4) turned her engineering talents towards international humanitarian work after spending five years in the US energy sector.
Learn. Mentor. Network. CONNECT!
Enrich your professional network and connect with the Skule™ community with U of T Engineering CONNECT, a new online platform for alumni.
Alumnus wants to keep you warm through Canadian winters
Jason Yakimovich (CompE 1T3 + PEY) is the inventor of Sola, a personal and controllable heating device worn on the upper arm.
Opera star credits engineering education for success
Isabel Bayrakdarian (EngSci 9T7) says her engineering education gave her "an invisible backbone to go into competitions, stand proud and say, 'This is who I am.'"
CEIE Tables & Benches Campaign
A limited number of tables and benches are available to be named in the CEIE. Donate today to leave your mark on one of Toronto's most exciting new facilities.
Nov 9
Skule™ Lunch & Learn
Nov 20
Alumni Volunteers Wanted: SkuleAO Winter Community Mixer
Nov 24

BizSkule Presents FinTech: (Don't) Show Me the Money
Nov 28
U of T in Your Neighbourhood: Engineering Moneyball in Hockey, Baseball and Beyond